Slalom's Challenge Your Mindset
Empower our consultants to respectfully challenge clients to greater outcomes.
Overview
Due to confidentiality as an internal project, I've omitted certain details and assets.
To support Slalom's OKR of increasing our customer love score, this micro-learning video series equipped our consultants to be even more effective in respectfully challenging clients to reach for and realize their visions.
Role
Responsibilities: Instructional design, visual design/branding, video production, video editing, email development
Tools: Illustrator, Photoshop, Camtasia, Pardot, Decision Lab (internal Slalom video platform), Workday, Microsoft Office, Microsoft Teams
Impact
Over 2,189 Slalom employees completed or started the course

55% of learners said they could confidently explain what being a challenger at Slalom meant

101 learners immediately applied skills from these lessons on the job
This project was a Slalom Learning Experience Design team effort:
Jennifer Neff and Jaime Curl conducted the needs analysis with Slalom leadership and key stakeholders to define the goals, outcomes, and vision of this series.

Kim Peterson and myself designed and developed the lessons, videos, and communications in partnership with the SMEs.
We landed on a micro-learning series focused on five key skills for respectfully challenging our clients to meet their outcomes. Each micro-lesson (10 mins or less) is emailed every two weeks. It focused on a skill and provided a learning "challenge" for consultants to apply back to their job. We pitched this learning approach to Slalom leaders and gained their buy in.
Business goal: Increase Slalom's customer love score.
Audience: Slalom's consultants and employees.
Learning objectives: Each lesson had specific learning objectives. At a high level, at the end of the course, the learner would be able to do the following with the client:
Prepare for the call

Have executive presence

Build trust

Have meaningful conversations

Be outcome oriented
Deliverables:
Six micro-lessons (including an introduction lesson) focused on a key skill of being a challenger

Each lesson had a short video, a challenge to apply the learning, and an email

One-pager of key takeaways and the challenges

A Microsoft Teams community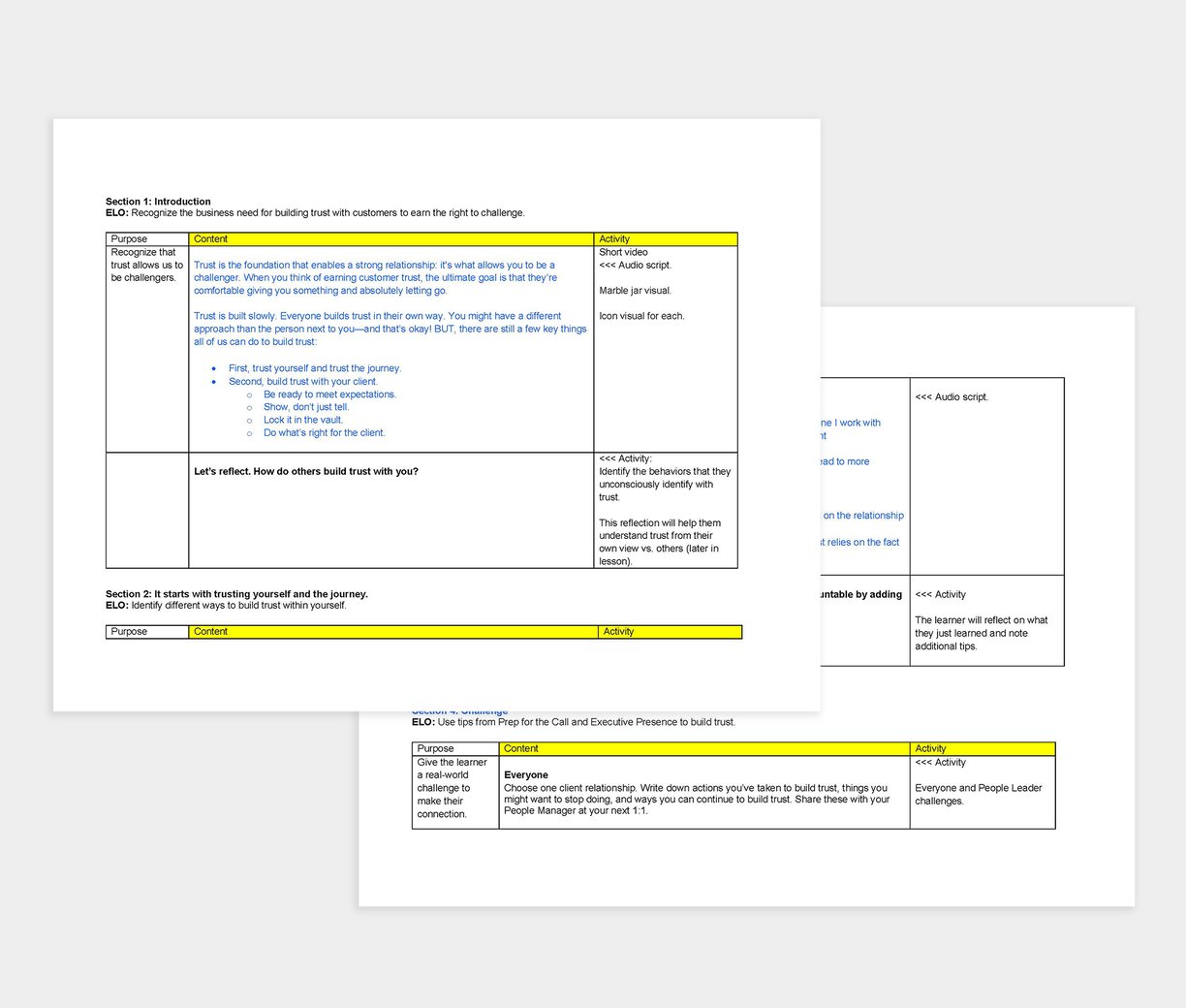 An example of how we gathered content with SMEs, focusing on the script first, and then brainstorming visuals and activities for each lesson. We also used this template to gather feedback from SMEs throughout.
Once the five skills were outlined and SMEs were assigned to each, Kim and I split ownership of designing and developing the lessons. I created the:
Introduction lesson (which includes a video with CEO Brad Jackson)

Build Trust lesson

Executive Presence lesson
For the overall project, I also owned the branding and user experience (since there were a lot of platforms involved in this micro-learning). Kim created the content template for our partnership with SMEs and video templates with engaging interactions.
Content was king in this series. For each lesson, Kim and I met with the SMEs to refine the learning objectives, define key behavior changes, and gather their tips from their experience working with clients.
For the introduction lesson that featured our CEO, I wrote the video script and partnered with Brad's assistant to refine. I also set up time with Brad to shoot the video and audio. This video set the tone and leadership support to encourage Slalom's consultants and people to invest in the learning, and ultimately, the company-wide initiative.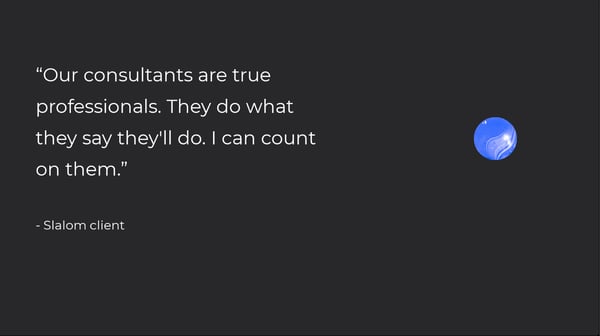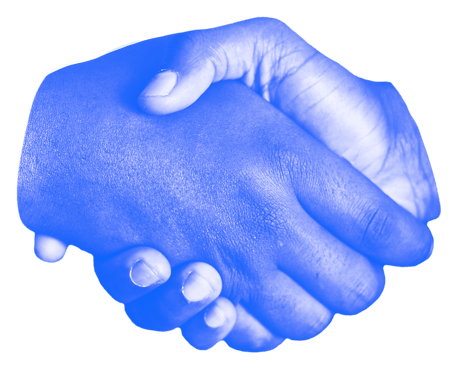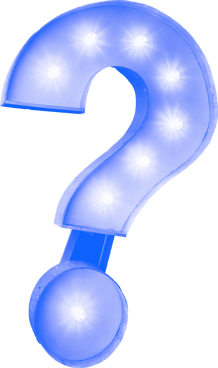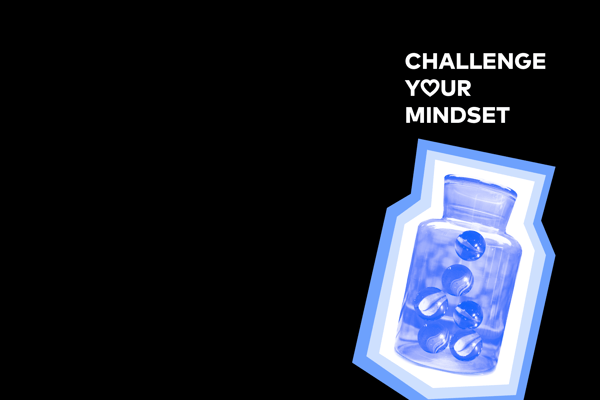 The brand focused on characteristics of being a respectful challenger: innovation, confidence, and superhero-like powers. I used sharp edges, color variation, and dynamic layering within the Slalom brand.
Branding in learning creates the story that builds connection with the learner.
I created the branding and visuals for the learning series. Kim added the cut-out, blue-tone imagery which made it even more dynamic. The visuals focused on innovation, confidence, and superhero-like powers--elements that are important to being a respectful challenger. You're strong and push boundaries, but are also mindful and empathetic in the process, cause clients are human too.
This translated to sharp edges, color variation within Slalom's color palette, dynamic layered shapes, and people imagery.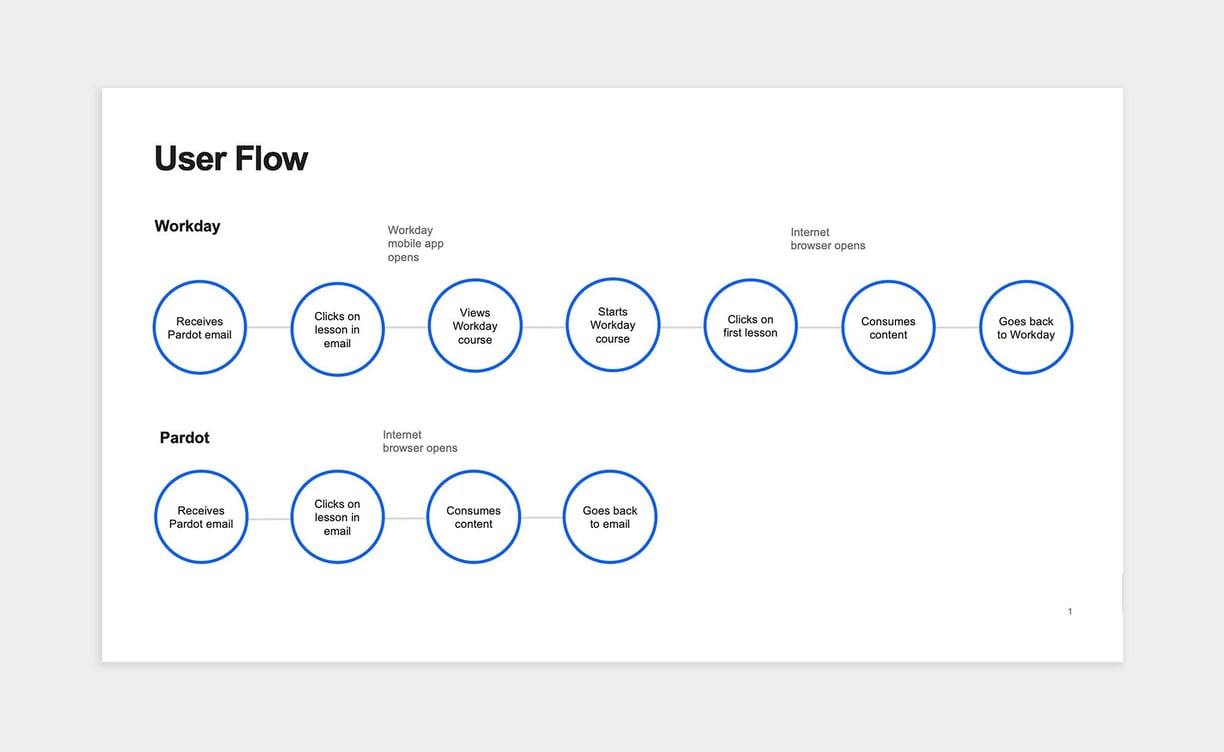 I designed this user flow and presented to the LXD team so we could think through the experience starting from when the learner receives the lesson in their email.
Mapping the user experience
To create a unique experience for Slalom's people, I brought up the idea of hosting the videos and lessons in Decision Lab, Slalom's interactive video platform. We pioneered the way by using Decision Lab as a learning platform, and broke up the animated videos with micro-interactions like reflection questions and small challenges. The Decision Lab team was excited to share this project with Slalom's clients as an innovative example of how to use the platform.
There were three platforms that supported the micro-learning series:
Email (learners get an email when a new lesson is released)

Workday LMS (where learners can find the course, along with all of Slalom's learning)

Decision Lab (where learners interact with the video and asynchronous content)
Since it was a first time using Decision Lab for learning, it was important to be mindful of the user experience. I created a user flow to understand all entry/exit points of the learner. How can we make the transition simpler for learners? Are there any points of confusion? Do we need this step? These were questions the team and I brainstormed through to ensure a seamless experience within the capabilities of the platforms.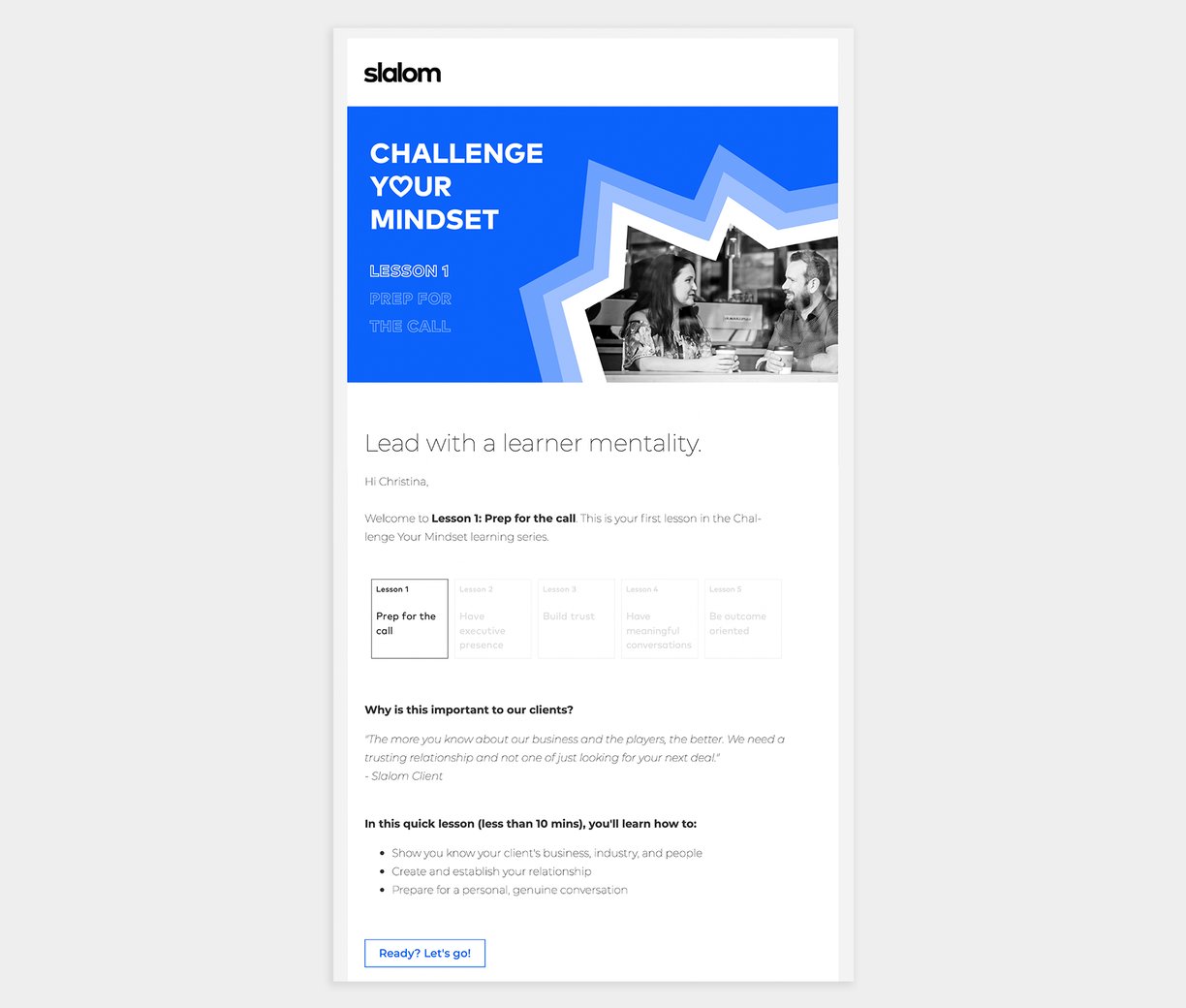 A lesson email is sent to learners when a new lesson is released every two weeks. I designed, wrote, and developed these emails in Pardot.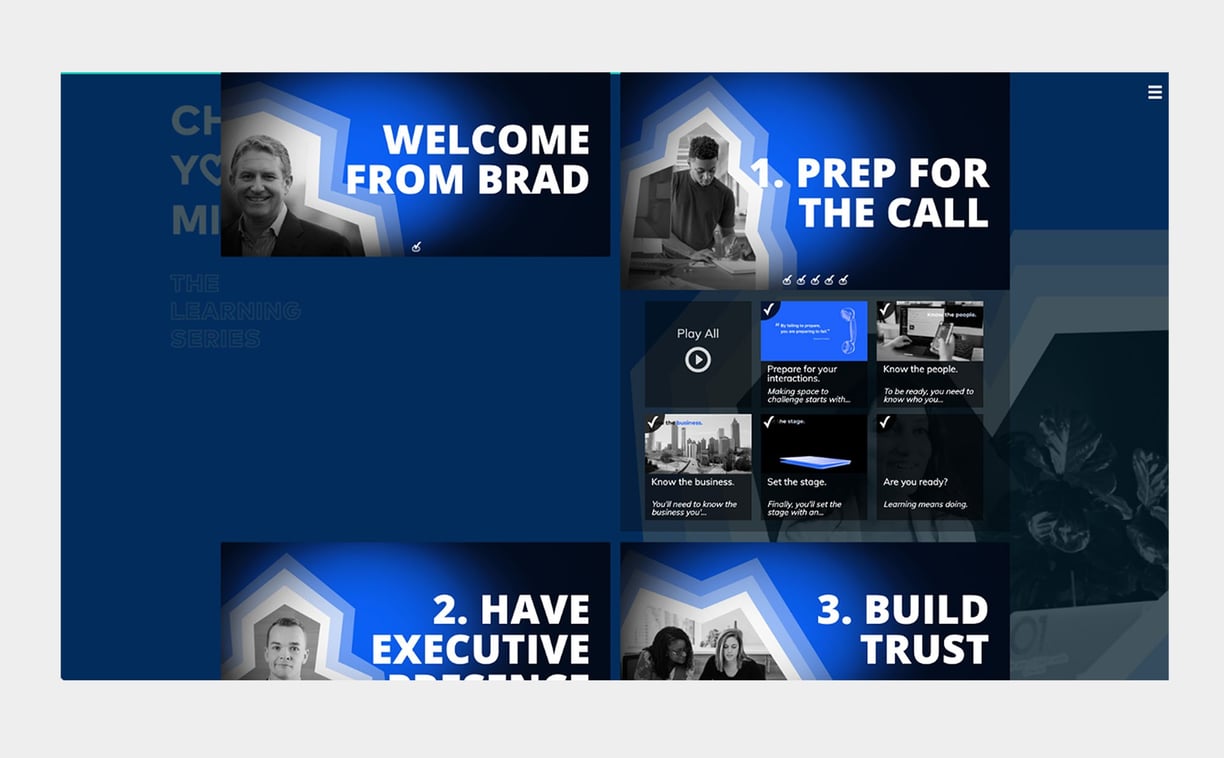 The learning series landing page in Decision Lab. Each lesson would is broken into smaller videos (1-2 mins each), with a short activity at the end of each (such as a reflection prompt or multiple choice question), and ending with a learning challenge to apply on the job.
One of the videos in the Build Trust lesson. Ch-ch-check it out!
Kim took the branding and visual language I created and brought it to life through animated videos in Camtasia. I supported developing these animated videos as we tag-teamed on creating them for each lesson.
I learned how to set up video, audio and lighting equipment to create high quality videos. This included the introduction video with our CEO Brad Jackson. It was fun, and goes to show you don't always need super expensive equipment to create engaging videos in learning!
For creating the videos, we recorded the audio (the talented Kim was our voice actress), edited the audio, created the visuals, imported the visuals and added animations in Camtasia, refined through feedback from our stakeholders, developed the email, and finally uploaded all content to the platforms. It was a collaborative process with fellow designers, SMEs, and stakeholders.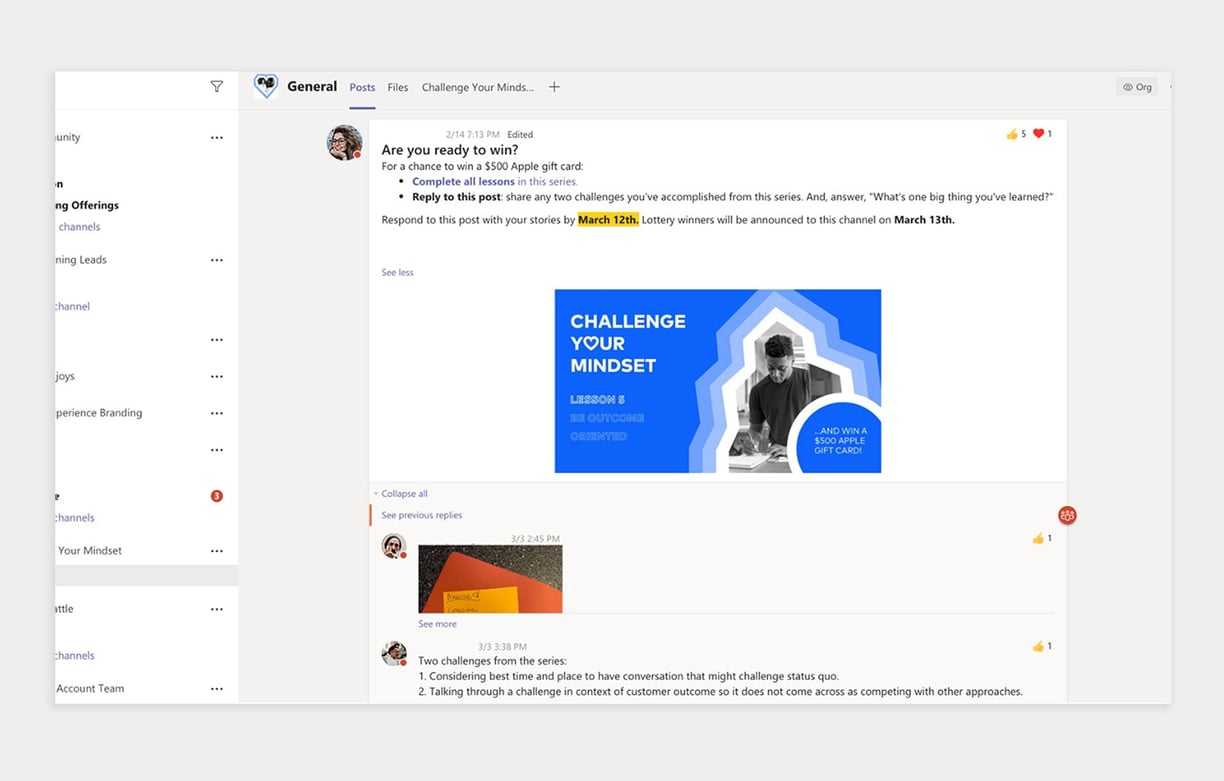 The Microsoft Teams course community built to connect learners and maintain engagement, such as incentives.
Incentivize and measure results
To incentivize our learners, we included a small challenge at the end of each lesson. We built a course community site using Microsoft Teams where people can post their responses to the challenge.
Individuals who completed challenges and shared their One Big Takeaway in the end would be eligible to win a gift card.
We also measured the success of the series through quantitative data (in-progress and completed) and qualitative (end of course survey and responses to the learning challenges). In the end, the micro-learning series met our goals with:
2189 completed or in-progress learners

55% of learners can confidently say what it means to be a challenger at Slalom

101 learners have immediately applied skills from these lessons on the job
Challenge Your Mindset was an exciting, innovative approach to micro-learning that resulted in engaged learners. Afterwards, our consultants connected with our team to see how they could create a similar learning experience to their clients.
2189 completed or in-progress learners

55% of learners can confidently say what it means to be a challenger at Slalom

101 learners immediately applied skills from these lessons on the job
"Concept is client approved. This was a great series and a well executed micro-learning. I even discussed the concept of doing a series like this with one of my clients and they loved the idea."
Consultant / Slalom